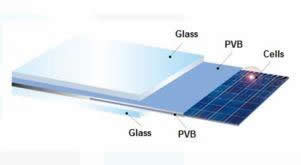 Why EcoGlass
Versatile Glass / Glass PV Panels
Designed and manufactured for Rooftop, Ground mount and BIPV installations.
Slimline design combined with PERC Technology 100% PID Free Mc-Si PV Cells with Pyramid wafer structure and special glass/glass bonding technology ensures higher light absorption generating up to 15% more power per day.
30 Year Manufacturers Product and Performance Guarantee of Minimum 90% power efficiency at 20 years, 80% after 30 years.
Available in Choice of 12 Solid or Semi-transparent Colour Options and customised pattern design print matched PV Cells, Foils & Glass to harmonise with Architectural Building Designs and Backgrounds.
Bespoke Manufacturing for Glass Panel Sizes, Glass Thickness, Glass Enhancements, Various Shapes, Light Transparency and Power.
All Weather Load Resistance 2,400PA Wind Loads, 5,400Pa Ice & Snow Loads.
Front panel frameless design enables Self Cleaning Glass Free Slide resistance to dirt and weather deposits maintaining optimum PV Panel light absorption and energy generation efficiency whilst reducing cleaning & maintenance frequency and costs.
EN 14449 Certified Toughened Laminated Safety Glass front and back panels.
Average life expectancy of 40 years delivering a high Return on Investment
100% European components and Manufacturing.